"The flowers, it is true, are not new; but the children are; and it is the fault of their elders if every new flower they come upon is not to them a Picciola, a mystery of beauty to be watched from day to day with unspeakable awe and delight." (Vol. 1, p. 53)

One of my greatest joys in life is spending time in the garden with my children. It wasn't always that way though, gardening seemed like a daunting task in the early years of motherhood. Between nursing babies and diaper changes a garden seemed like "one more thing to keep alive" but as the babies grew up and began to toddle around, we found ourselves outside more.
The sun would kiss our skin as we watched the daffodils unfold in the springtime around our house. Their chubby fingers would point to a flower, wanting to know what color it was, "red tulip, pink pansy, yellow snapdragon", I would reply. In many ways, gardening became our escape from the mundane piles of laundry and dirty dishes in the sink. It was our excuse to go outside, to create and relate as well as a place to get a little messy.

I found it really doesn't matter how big or small a garden needed to be, we could still find joy in watching a flower grow in a pot just as much as we could picking tomatoes in a 1,000 square foot bed. If this is your first year considering a garden, I want to encourage you to not let your living space limit you. If you live in an apartment, consider container gardening by growing shallow rooted plants like lettuce, spinach & kale. These hardy plants are considered "cut and come again" meaning you can get several harvests. Little hands can easily remove the leaves or let them use scissors to cut. This is a great way to encourage fine motor skill development.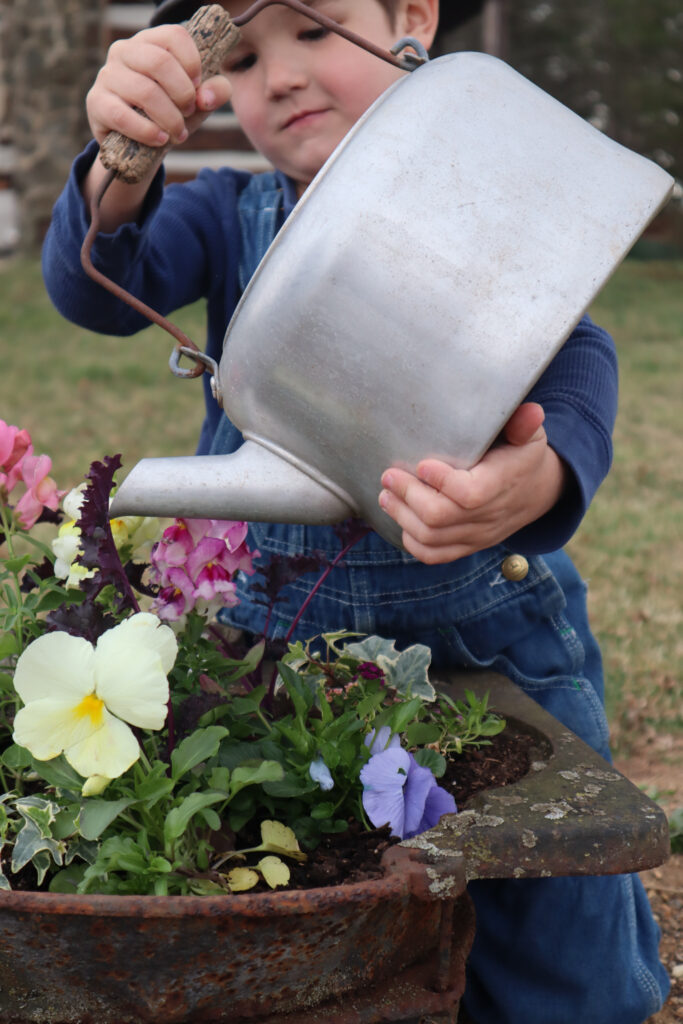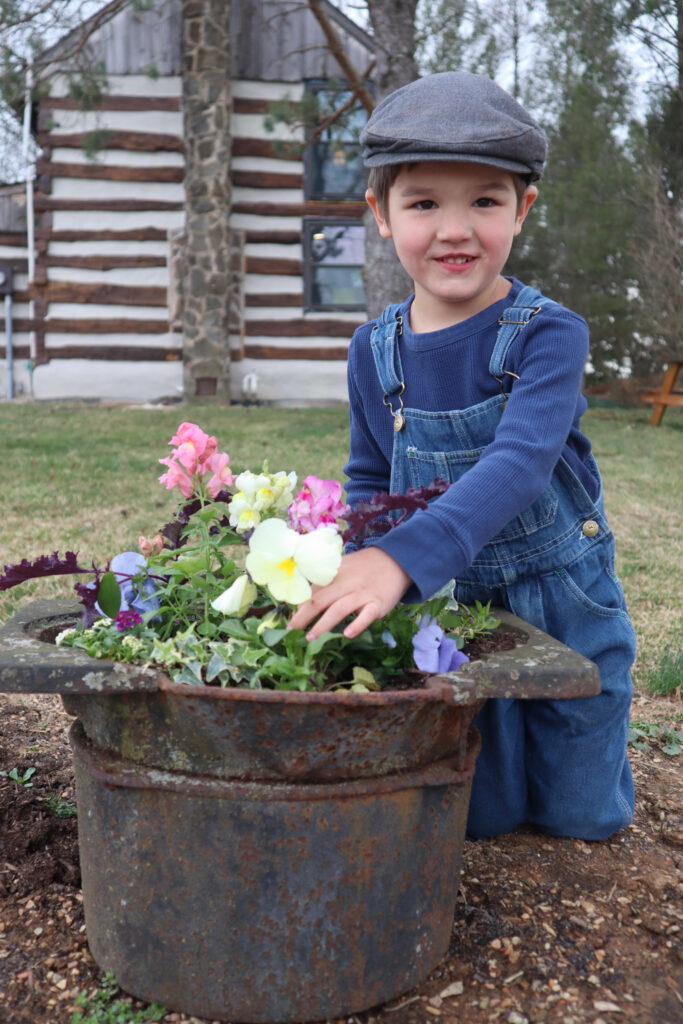 If you are renting and do not want to make a permanent financial investment, consider raised beds. You can use them for the season and if you move they can come with you! I like to think of raised beds as an "instant garden". One afternoon of prep time and you're ready to grow! Line the bottom of the bed with cardboard to prevent weeds & grass from growing into the bed. I found that two to three layers of cardboard is sufficient to smother out unwanted plants. Layer branches & sticks to fill the bottom of the bed so you don't need to use as much soil. For soil, I like to use a nutrient rich mixture called mushroom soil. Plants like tomatoes & strawberries are "heavy feeders" and require a lot of nitrogen to grow. Other plants that do well in loose raised bed soil are garlic, onions, potatoes & carrots.

Gardening also opened a whole new world to us. Our once stagnant lawn became a blank pallet for the imagination. Now, we could add little nooks and crannies for the children to get lost in. Even authors like Beatrix Potter drew her inspiration from her childhood gardens and pets. One of my most favorite books to read for garden design inspiration is "Beatrix Potter's Gardening Life: The Plants and Places That Inspired the Classic Children's Tales" by Marta McDowell. I love how gardening and literature go hand in hand. Charlotte Mason once said "education is the science of relations". A garden is a beautiful way to relate to the world around you. Take a Dianthus for example, you may know this simple flower as a carnation, but it was originally named by the Greek botanist Theophrastus to mean "Flowers of the Gods". "Dios" means god and "anthos" means flower. Now we have somehow managed to go from nursery tales in the garden with Peter Rabbit to Greek Mythology in a matter of minutes. A child's mind knows no limits in the garden, it is a place where creativity and inspiration can meld with concrete thought and reason. To them though, it's just play.
Speaking of play, children love to get messy and be outside. I don't think this is a big secret though. While the extra laundry and muddy handprints on the windows can get frustrating this type of exposure is imperative for normal development. Children exposed to microbes in the soil are known to have stronger immune systems and less seasonal allergy issues later in life. By building rock walls and paths in the garden it gives children a natural balance beam to practice on and build core muscles. If you choose to grow vegetables, children are also more inclined to want to try tasting something they helped grow. Even a few herbs in the garden can make for fun experimentation in the kitchen, expanding the palate. If you are having trouble deciding on what to grow, Strictly Medicals, a seed company, has a fun garden collection called Kidzerbs complete with 10 easy to grow herbs and a fun companion book.
Over the years, our lives have become centered around the garden, what started as a few pots on the windowsill has become a way of life. The children have learned the signs of Spring approaching by watching the crocuses emerge from the frost covered ground. We wait patiently for the caterpillars to hatch on milkweed and it has connected us to nature in a way that I could have never dreamed. By getting us outside, giving us incredible opportunities to relate to the world around us and helping us get messy while building strong, healthy bodies. I hope you too, will be encouraged to get outside and build a garden this year.
For additional information on gardening, here are a few of my favorite resources:
About the Author: McKenzy Winkler, Herb Farmer & Master Gardener, lives in South Central Pennsylvania with her husband and four children in their little log house nestled on 7 acres. Their days are filled with homeschooling and running their farm, Latimore Valley Herb Farm. Among the daily milking's and farm chores she enjoys sharing their lives on their Instagram account and YouTube channel, Little Farm Folk.