Farmhouse coffee, eggy coffee whatever you call it, it's delicious. A few simple ingredients can make an average cup of coffee beat an overpriced Starbucks coffee anyday. Before I get into the nitty gritty of the ingredients, let's first talk about the history of eggy coffee.
There were a few variations of eggy coffee before it became "homestead lattes", immigrants that traveled from Sweden to America used to put an egg yolk into their coffee grounds before brewing it in the early 1800's calling it "church coffee".
In 1946, a Vietnamese bartender needed a quick solution to make coffee frothy when their milk was running out due lack of supplies during wartime. He mixed a raw egg yolk with sweetened condensed milk and the rest is history, as they say.
To me, adding a raw egg yolk in my coffee is a way to get an extra dose of vitamins and minerals in my diet. I have found that three raw egg yolks (in coffee and a smoothie) is like taking a handful of vitamins for my body. In fact, raw egg yolks are high in vitamins A, D, E, K & Bs (like B12, great for growing hair) . You can read more about the health benefits of raw egg yolk here.
Some health benefits I noticed personally, from drinking a raw egg yolk in my coffee is stronger hair and nails, increased energy and the extra protein source helps me not to "crash" when I have a cup of coffee on an empty stomach.
I stopped using coffee creamer years ago and switched to raw milk/ cream and for the sweetener I use pure maple syrup. Maple syrup contains trace minerals for an added health boost. All the ingredients are clean, I can pronounce their names and can count how many went into my coffee on one hand.
One question I get asked frequently is if the egg scrambles in the hot coffee, no it doesn't. Not when you temper it in the cold milk or cream.
Another question I get asked is if I'm worried about getting sick from consuming raw egg yolks. I'm not either because the eggs I use are fresh from our backyard. You see, all chickens lay a protective, antimicrobial "film" around an egg because it is porous. This is to keep pathogens from getting in. After the egg is washed is when it becomes susceptible to being contaminated. All eggs that go to the grocery store must be washed and in many cases bleached. This is why you'll read of recalls on contaminated eggs from the store. For eggy coffee I would only recommend fresh eggs from a local farmer, grocery store eggs can be up to three months old when they hit the shelves for retail.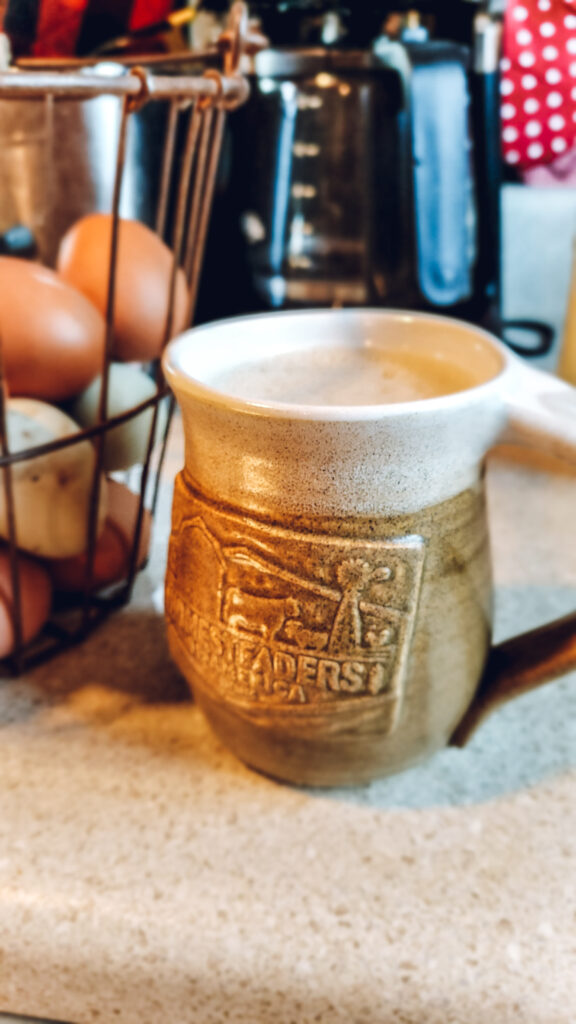 Recipe
Ingredients:
1 Egg yolk (only the yolk)
Cream (I like raw cream or milk but anything will do)
Pure Maple Syrup
Coffee
Directions:
Separate egg yolk from egg white (cook up the white and use it for breakfast or give it to your dog- it's good for him!)
Pour egg yolk into a mason jar and add cream, about 2 tablespoons. Put a lid on the jar and give it a good shake or use a hand held frother to stir it up.
Pour egg & milk mixture into coffee
Sweeten to preference with maple syrup (I like to add this last so you get the flavor just right).
I hope you'll be brave enough to try eggy coffee. It's been a wonderful addition to my morning routine and I am so thankful for this inexpensive way to get extra vitamins into my diet.
Hand Held Frother
Amazon.com: Bonsenkitchen Handheld Milk Frother, Electric Hand Foamer Blender for Drink Mixer, Perfect for Bulletproof coffee, Matcha, Hot Chocolate, Mini Battery Operated Milk Whisk Frother (Batteries Included): Home & Kitchen