April has been a whirlwind for our family! We welcomed a new calf to the farm and we named him Linus, after the previous owners of our little log house.
It's been an uphill battle with his mama and another one of our cows as we've navigated milk fever, pneumonia, ketosis and mastitis. All in just TWO weeks!
Needless to say, that is why this month's #makebread365 challenge is late, I do apologize!
This month we are learning to make bagels! I asked my children, "Do you know what April is for?" They replied "no" but before I could respond my husband chimed in with " April is for asiago bagels!" He hit the nail on the head, they are an absolute favorite in our home.
This month, I will be hosting a special giveaway of fresh milled/ specialty blended flour thanks to @unsifted.kc on Instagram. It will be hosted the week of April 16th so be sure to stop by and enter for your chance to win!
Homemade bagels are slightly time consuming because you have to boil them first and then bake them, but I can assure you they are well worth the extra effort!
Add in some homemade cream cheese and you've got yourself a little slice of heaven. You can customize them with different ingredients like dried blueberries, raisins, and cranberries. Top them with everything bagel seasoning or our favorite, asiago cheese.
You can spread homemade jellies and jams, use them to make breakfast sandwiches or even make smaller bagel pizza bites for a fun alternative. Essentially, bagels can qualify for breakfast, lunch or dinner.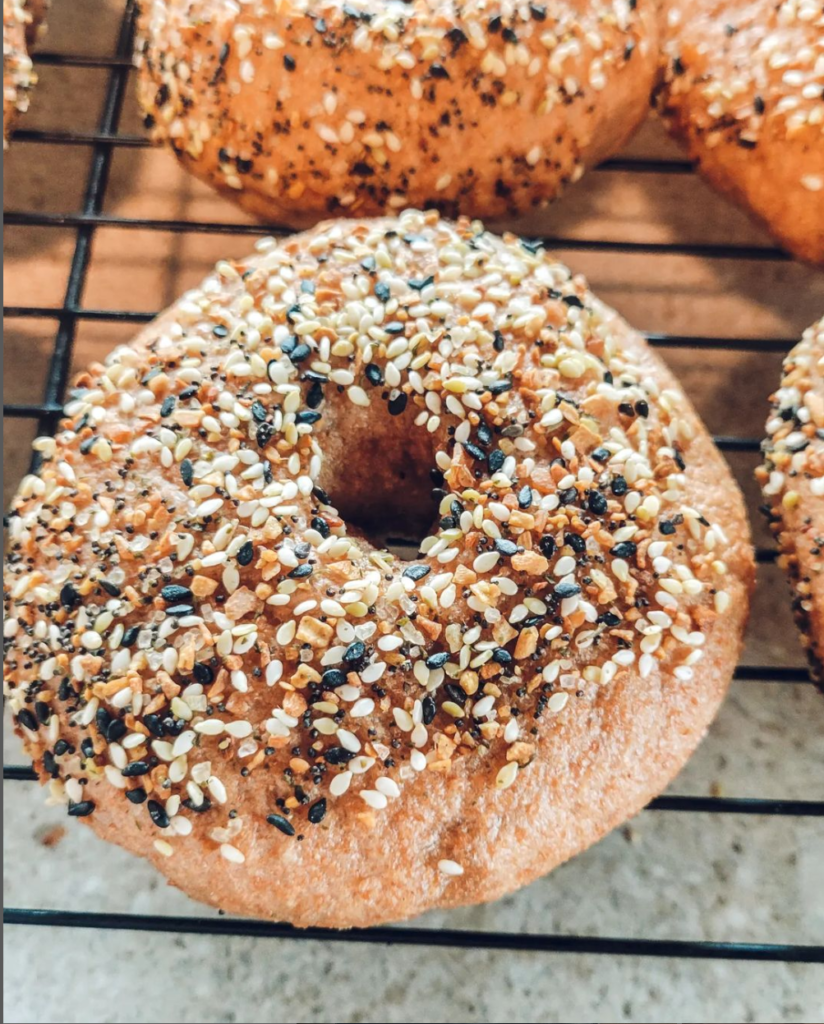 If you bake along with us, be sure to use the hashtag #makebread365 so we can celebrate and encourage each other along the way!
Supplies:
Bagels like most of the bread recipes featured in #makebread365 require very little tools. Although, you will need a few extra items this month.
-Bowl
-Stock Pot
-Slotted spoon or spider
-Baking Sheet
-Mixer (optional)
-Grain Mill (optional)
Cream Cheese (bonus recipe)
-Flour Sack towel/Butter muslin
-Air tight container with lid